How to Register TNEB Online for Bill Payment
Below you can find the new User Registration Procedure for Bill payment and other grievance registration.
TNEB New User Registration Procedure:
1) Go to the TNEB Online Payment Portal https://www.tnebnet.org/awp/login
2) Click on the New User
3) Select ->Existing Service Connection Number and click -> Enter
4) Now Select your Region from the nine regions mentioned (Eg- Region -09:Chennai-South ) ->  Now Select -> LT

5) Now Enter the 10 Digit Consumer No printed on  the first page of your EB Card : (How to find the Number)
6) Click -> Check Details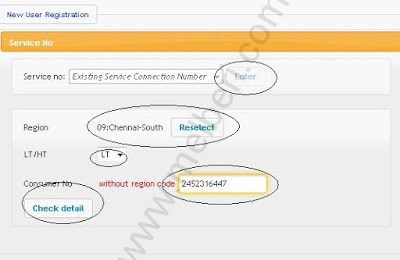 7) This will show your name and address details. Now Click Conform. This will open the registration form, in that enter your details and click ->Submit
8) An automatic confirmation email will be sent to your registered email id. Click the link to verify your registration. Now the user is said to be successfully registered.
9)  If the service number which you are trying to register is already registered by another consumer, then you will get the message "Consumer number already registered" during registration.
10) If somebody else is already registered your consumer number, then you can register a complaint.
11) Enter the new username and your email id, An email will be sent to the already registered user to delete his account. If he did not delete his account, the system will check the usage of his account for recent transactions and if no transactions were done by him for the registered service number, then his account will be deleted automatically within 7 days and an intimation email will be sent to you for making new registration.
12. After the registration you can follow this procedure for add your service number for online payment.
13. Follow the Procedure To Pay Online.