Tamilnadu Employment Exchange Online Registration Procedure
Below you can find the Online Registration Procedure for Tamilnadu Employment Exchange Professional and Executive UG PG Engineering B.ed- TN Velai Vaippu New Registration
If you are a new user and you don't have registration number to login, then follow the below procedure to register your user ID first.
If your have manually registered by visiting the employment exchange and you are having the registration number then you can directly login for updating and renewing your profile.
1. TN Employment Exchange New User Registration

1. Go to Tamilnadu Employment Exchange Online Registration Website
2. For New User ID Registration Click on the registration link. and Agree the terms and condition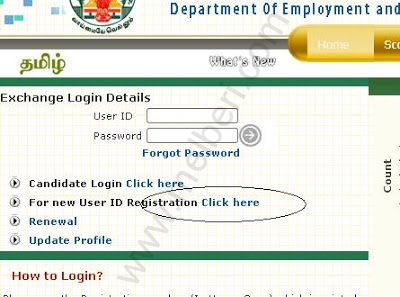 3. Enter all the mandatory Personal Details
Name – Your full name
Father Name – Your Father Name
Gander – Male/Female
Date Of Birth – Select your DOB
Email ID – your email id
Family Card Number – Your Ration Card Number ( 05/G/03324933)
User ID – Your preference / Password
Favorite Colour – Select one
Image Code – Enter the below mentioned code
and Click Save
That's all your online user id creation is completed.
2. Online Registration of Degree Qualifications

1. Go to the login page and login with your newly registered user id/password details.
2. After the successful login, you can see the below page. Click on the registration link as shown below.
     For Registration at Professional & Executive Employment Office Chennai/ Madural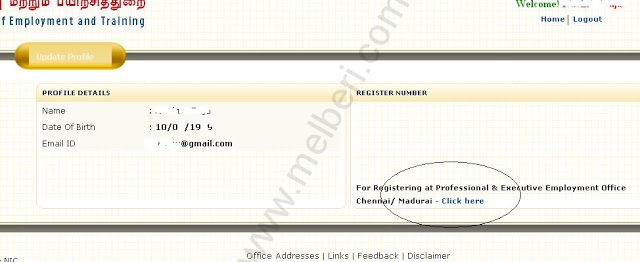 3. This will Take you to the Personal Details Page.
Personal Details
Enter the missing Personal Details like
Mothers Name :
Marital Status :
Religion :
Community ID :
Caste :
Community Certificate Number
Community Certificate Issue Authority
Do The Candidate belong to OBC category
Category click Next
Contact Details:
Address (Must Be As Per your Ration Card)
District (Must Be As Per your Ration Card)
Name of the Employment Office
Taluk
Local Body
Location
Pincode
Employment Status
Family Card Number
Phone Number(Land Line) and click Next
Qualification Details
Enter your Qualification Details and Add it here.
University
Year of Passing
Medium (Language in which the Major Subject was Studied)
Second Language
Educational Qualification
Certificate Number of Mark sheet2
And Click Add
Once you have added all your Qualifications click Save and go to Next page.


Technical Diploma Certificate Courses
Skills Details
Update all the details and submit your application online.