Tamilnadu Employment Exchange Online Renewal Procedure – TN Velaivaippu
Below you can find the Online Renewal Procedure for Tamilnadu Govt Employment Exchange Professional and Executive and All other Students – TN Velai Vaippu simple Step by step procedure to renewal for Tirunelveli, Virudhunagar Nagapattinam, Namakkal, Cuddalore, Villupuram, Trichy, Vellore, Nagercoil, Kanchipuram, Salem, Thanjavur, Chennai, Dindigul  Students.
Employment Exchange Online Renewal Procedure
1. Login to your Employment Exchange website using the registered user id and password
User ID : is your 16 digit Registration Number (ex-CHP2012F00012345)Upper Case.
You can find it in your id card.
Old card numbers 1998M07054 or W/7054/1998 should be login as CHP1998F00007054
Password :  For New Online user default password will be your date of birth (dd/mm/yyyy) in this pattern.
If you changed after registration, then use that password.If you forget the password simply reset it in the mentioned URL.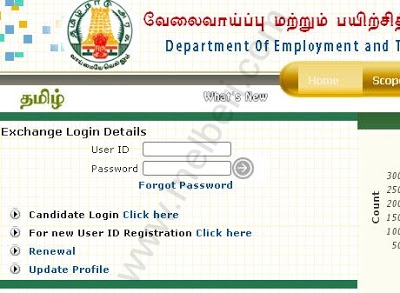 2. After the successful login, in your home page
Go to Update Profile -> Renewal -> Candidate Renewal
3. Now Just click on renewal button. That's all Your id card will be renewed successfully.
4. Now you click Print id card and verify the Next Renewal Due Month to confirm the successful renewal.